Products -
Electrical Panel
Control Systems Manufactures, Exports & Supply quality Electrical Control Panels. The Range of Electrical Control Panels we offer DrawOut Panel, APFCR Panel, MCC, PDB, Change Over Panel.
---
Motor control center houses various starters for the various drives. It is mfg. In compartmentalized and non-compartmentalized constructions. Panels are manufactured in sactions for a big MCC. All sactions are joined together. Copper/Aluminum bus bar is provided with the Panels. In the continuous process industries down time in the starters are critical. In that case draw out type MCC is used. Same is having modules of different ratings and new modules can be plugged by removal of the exciting module.
Read More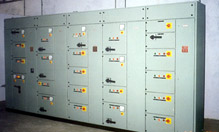 ---
In various industries power supply distribution Panels are required to be provided. It distributes power from incomer to the various utilities. Based on the connected load the incomer rating is decided. In case of more than 1 incomer suitable bus couplers are provided with interlocks.
Read More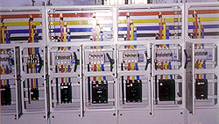 ---
Modern power networks cater to a wide variety of electrical and power electronics loads, which create a varying power demand on the supply system. In case of such varying loads, the power factor also varies as a function of the load requirements. It therefore becomes practically difficult to maintain consistent power factor by the use of fixed compensation i.e. fixed capacitors which shall need to be manually switched to suit the variations of the load. This will lead to situations where the installation can have a low power factor leading to higher demand charges and levy of power factor penalties.
Read More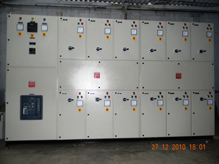 ---
Due to power shortages various industries run their plant on dg sets. Some times whole plant runs on the dg sets or some times partial plant is run on the dg sets. Single/bus bar Panels are provided with change over switches.
Read More
---
In every modern industry, reliable electrical systems are a must to reduce the production downtime & improve efficiency. Customer will opt for drawout panel. Panel is designed to provide fool-proof control for the motors that are installed in the many process industries viz. fertilizer, petrochemical, cement, oil refineries, chemical plants, steel plants, power stations, material handling plants & other continuous process plants wherein the continuous flow of power without the slighest break is a must.
Apart from power , control drawout contacts will be provided to suit the need of interlocks.
Uptill 630a Incomer drawout type tesed panels are mfg. in drawout modules.
Read More
---